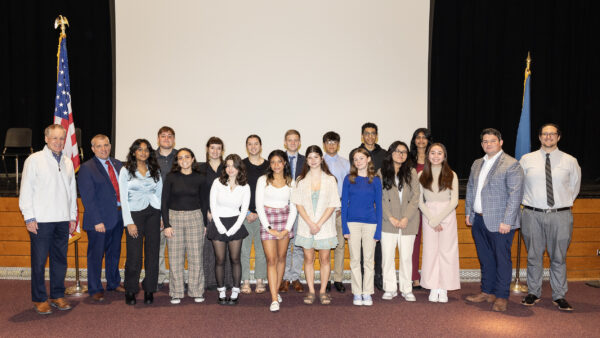 BUCKS COUNTY – To encourage civic engagement and help students understand the legislative process, Sen. Frank Farry (R-6) offered local students an opportunity to be a senator for a day during a mock legislature event on October 27 in Bucks County.
"The goal of the program is to not only give students a glimpse of how government functions with a hands-on experience of the legislative process, but hopefully teaches them the values of compromise and respect and the importance of coming together for a common good," said Farry.
More than 50 high school students from six different schools; Bensalem High School, Bucks County Technical High School, Conwell-Egan Catholic High School, Holy Ghost Preparatory School, Neshaminy High School and William Tennent High School participated in the program, which took place at Neshaminy High School in Langhorne.
The event began with opening remarks from former Pennsylvania governor Mark S. Schweiker explaining the legislative process. Students then broke into four standing committees to debate legislation modeled after real bills that have been introduced in the Senate of Pennsylvania. Senate staff members from Harrisburg and Farry's district office, along with former elected officials and government relations professionals, helped guide the students through the debate process.
"It was encouraging to see them so immersed in the issues, developing their own positions and actively engaging in debates with the other students," said Farry.
After lunch, the students gathered for a mock general session of the Senate led by Farry. Six of the eight pieces of legislation moved out of committee and were considered by the full group of senators. The committee chairmen presented the bills for debate and a final vote.
The event closed with Farry sharing the status of the actual bills in the Senate, speaking about the challenges of the legislative process and the importance of compromise and treating others who may have differing opinions with respect.
View a recap of the program here.
CONTACT:
Nicole McGerry