In this Update:
I-95 Incident Updates and Travel Info
PennDOT is Hiring
Save The Date – State Services Day
---
I-95 Incident Updates and Travel Info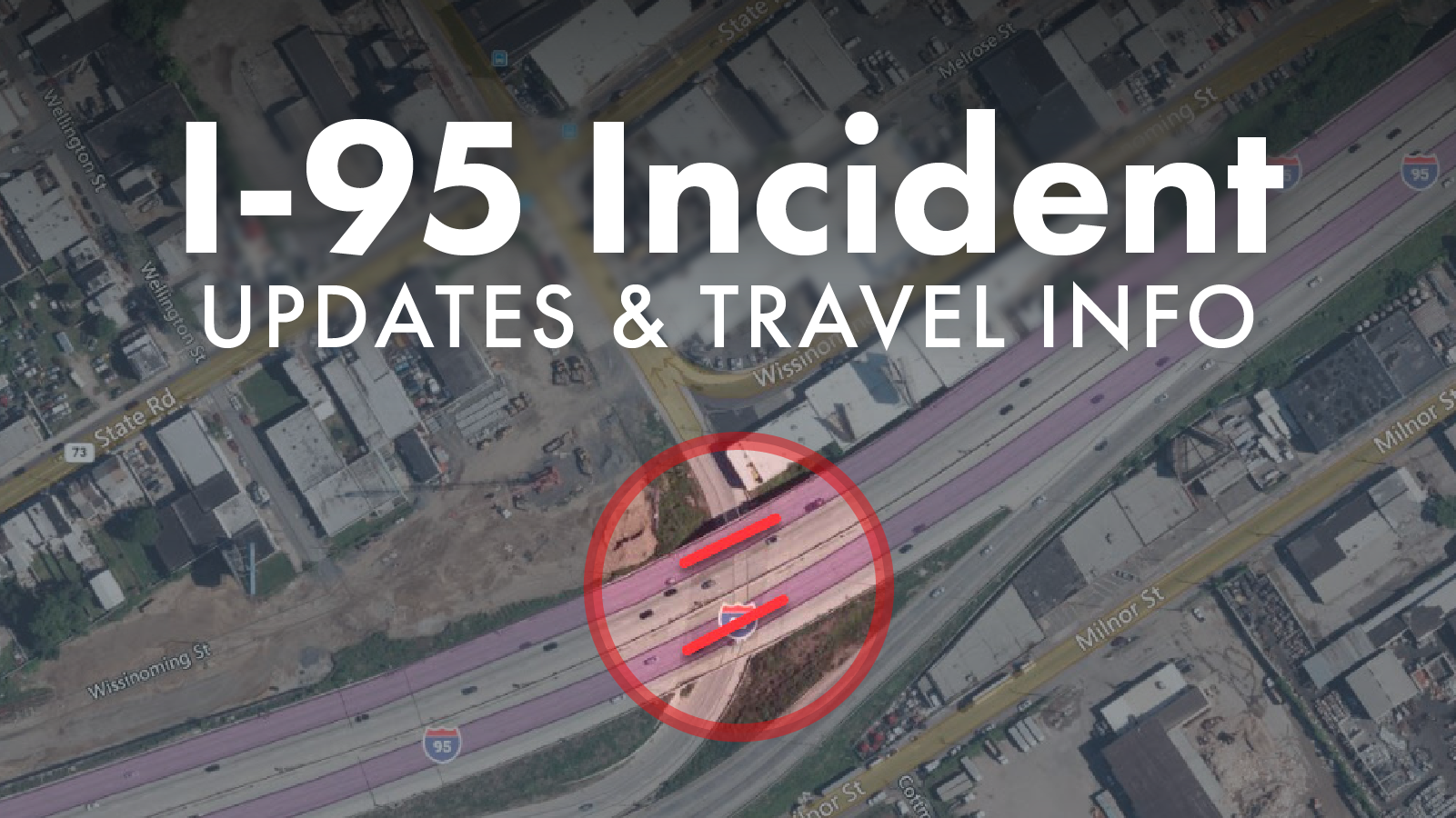 We are hearing from a lot of residents regarding the partial highway collapse on I-95 caused by a tanker truck fire on Sunday morning. All lanes of I-95 are still closed in both directions between Woodhaven and Aramingo exits and will be for some time.
A more exact timeline for the complete rebuilding of the I-95 roadway should be available in the coming days, but to expedite the process, Governor Shapiro issued a disaster declaration, allowing the Commonwealth to immediately draw federal fuds and move quickly to begin the repair and reconstruction process.
In the meantime, I wanted to keep you up-to-date and provide resources for those commuting to Philadelphia.
If possible, working from home or using SEPTA should be considered. To accommodate travel through the city and region, SEPTA has added service on the Trenton Line and added capacity on the West Trenton and Fox Chase Lines. For further details and the latest updates, visit their website: www.septa.org
PennDOT will be updating their website with the most up-to-date info and detours: www.pa.gov/i95updates
and https://www.511pa.com/ .
You can also follow me on facebook for updates: https://www.facebook.com/SenatorFarry/
The Pennsylvania Department of Transportation (PennDOT) is Hiring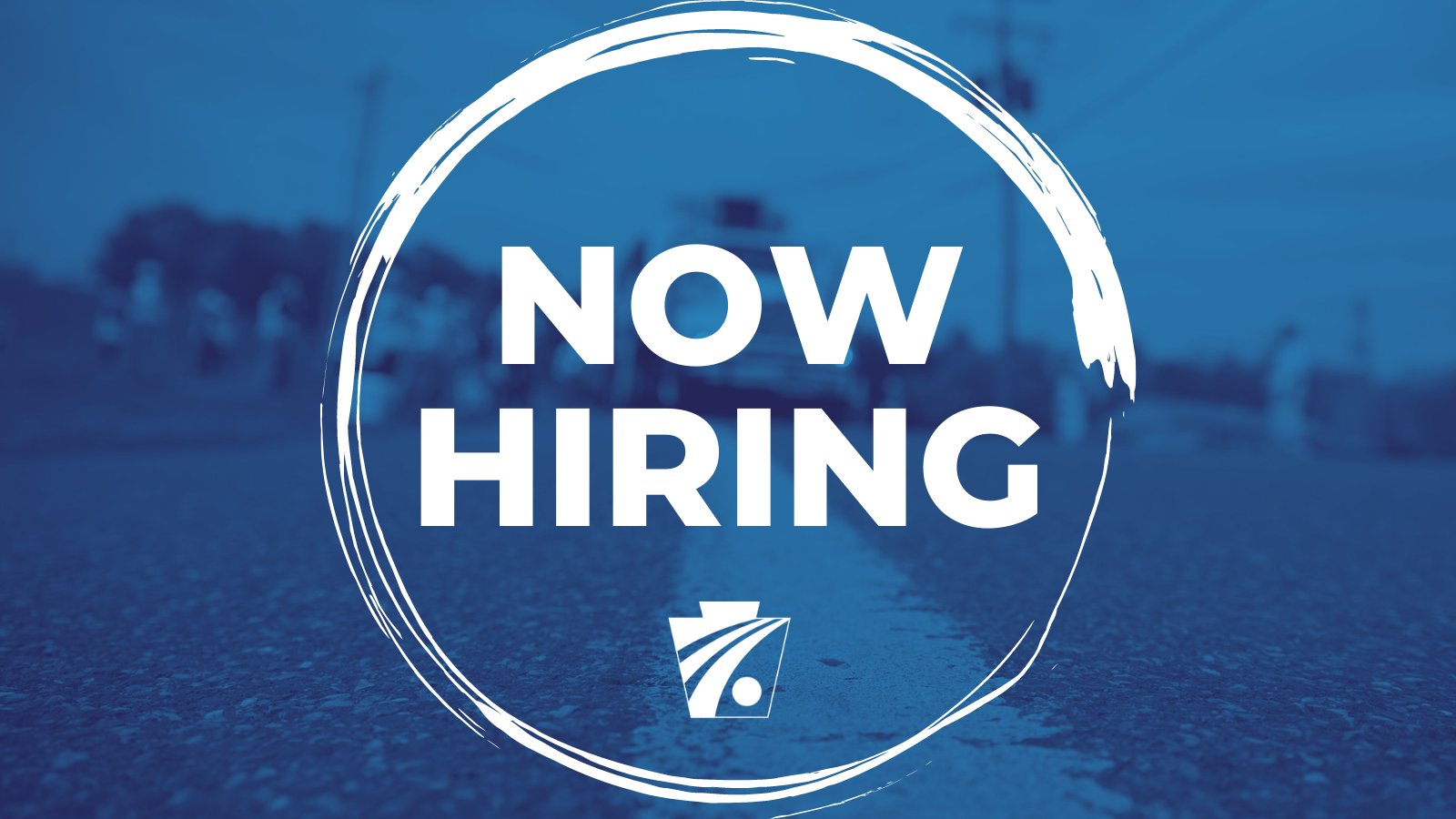 One of the most frequent topics my office hears about are the conditions of our local roadways. I join you in those concerns and experience the number of potholes as I drive around the district. My office has always worked very closely with PennDOT and continues to do so, including several calls and meetings about current road conditions.
Bucks County has over 2,700 miles of state highways and due to fiscal constraints, they can only repave about 25 miles a year. As costs rise, our maintenance department continues to do more with much less, less flexibility and less people. As many other industries and professions, our Bucks County Maintenance Department is extremely short staffed with less than 50 positions filled out of the 86 budgeted. Many of these open positions would be performing roadway maintenance. I bring this to your attention, not to defend the conditions of the roadways but to bring to light their need for more workers.
If you or anyone you know may be interested in working for PennDOT, you can easily search the available positions and apply for the jobs on employment.pa.gov. The open positions online can be filtered by county and applicants do not have to live in the county for the job they are applying for. Examples of open positions available in Bucks County include Transportation Equipment Operator and Transportation Equipment Operator Trainee. PennDOT will train an employee for a CDL if hired for the Transportation Equipment Operator Trainee position.
Additionally, I ask that you continue to let my office know about your roadway concerns. You can report potholes to the state hotline at 1-800-FIX-ROAD or call my district office. My staff works closely with the maintenance personnel to get your concerns addressed as soon as possible.
Lastly, I want to thank these men and women who work for PennDOT, who continue to keep our community safe and moving.
Save The Date – State Services Day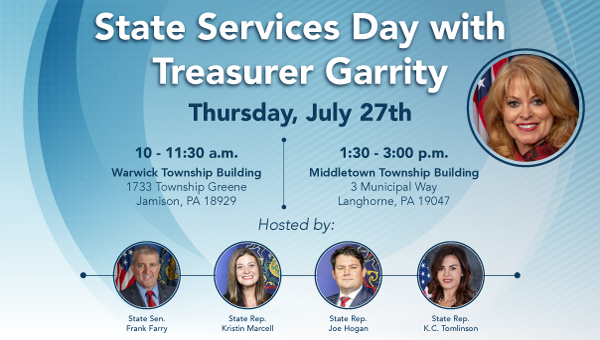 Save the date for State Services Day with PA State Treasurer Stacy Garrity on Thursday July 27th sponsored by myself and State Representatives Kristin Marcell, Joe Hogan, and K.C. Tomlinson.
The free event is offered to all residents of the 6th Senatorial District and will take place at two locations; the first being from 10 a.m. to 11:30 a.m. in the Warwick Township Building, located at 1733 Township Greene in Jamison and the second from 1:30 p.m. to 3:00 p.m. in the Middletown Township Building, located at 3 Municipal Way in Langhorne.
PA Treasury staff will be on-site to help find unclaimed property and submit claims, as well as provide information on the PA 529 College and Career Savings plan. The PA Department of Military and Veterans Affairs Outreach Team will be available to provide information and assistance to veterans.
Other state services will also be available, such as processing senior SEPTA passes, help with PennDOT, birth certificates, etc.

If you are not already subscribed to this newsletter please sign up here.