In this Update:
My First Bill Passes Senate: Preventing Tax Increases and Keeping Tax Dollars Local
FREE Community Shredding Event
Archbishop Wood Girls Basketball Team Visits the Capitol
Guest Chaplain at the Capitol
Fighting Crime to Ensure Safe Communities
Recognizing National Mental Health Awareness Month
---
My First Bill Passes Senate: Preventing Tax Increases and Keeping Tax Dollars Local

When I was elected to represent you in Harrisburg, I made it clear that I would advocate to make things better for you and our community. That is what I have done and I am proud that my first bill that passed in the Senate, SB671, is to make Philadelphia's City Wage Tax more equitable for non-residents and keep our tax dollars local to help our community.
The City of Philadelphia imposes a City Wage Tax on salaries, wages, commissions, and other compensation paid to employees that are employed within Philadelphia. Non-residents are required to pay this wage tax whether they commute to Philadelphia or work at home if their employer is located in Philadelphia. The current wage tax is 3.44%, with none being remitted from Philadelphia to the employees' home municipality unlike the other 2,500 plus municipalities in the state.
Bucks County municipalities and school districts lost an estimated total of $17 million in EIT(earned income tax) revenue in 2021– resulting in higher taxes for basic services like fire, police and emergency medical services.
My bill is simply to return that EIT % to our local governments and place Philadelphia in line with every other local government in Pennsylvania. See part of my remarks here.
The bill now moves to the House of Representatives for consideration.
FREE Community Shredding Event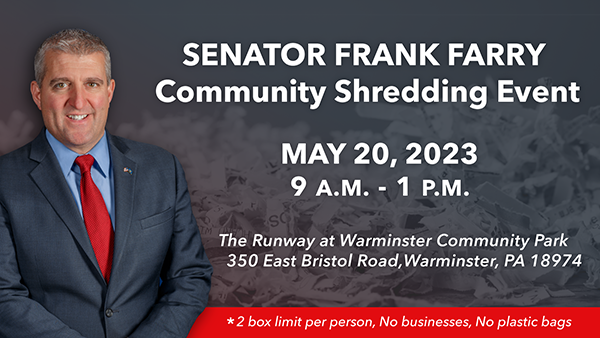 To help residents guard themselves against identity theft, I will be hosting a free community paper shredding event Saturday, May 20 from 9 am-1 pm at The Runway at Warminster Community Park, located at 350 East Bristol Road in Warminster.
Residents of the 6th Senate District are encouraged to bring documents that contain sensitive information to be thoroughly shredded.
Due to high demand, individuals are limited to two file boxes of paper; No plastic bag, please.
This event is for residents only; no businesses
My staff will be on hand to address any state-related issues/questions. Free information on state programs and services will also be available.
For the event, you will enter at the traffic light at Hatboro and Bristol Rd. Once in the park, the line for the shredding will be on your right on the runway.
Archbishop Wood Girls Basketball Team Visits the Capitol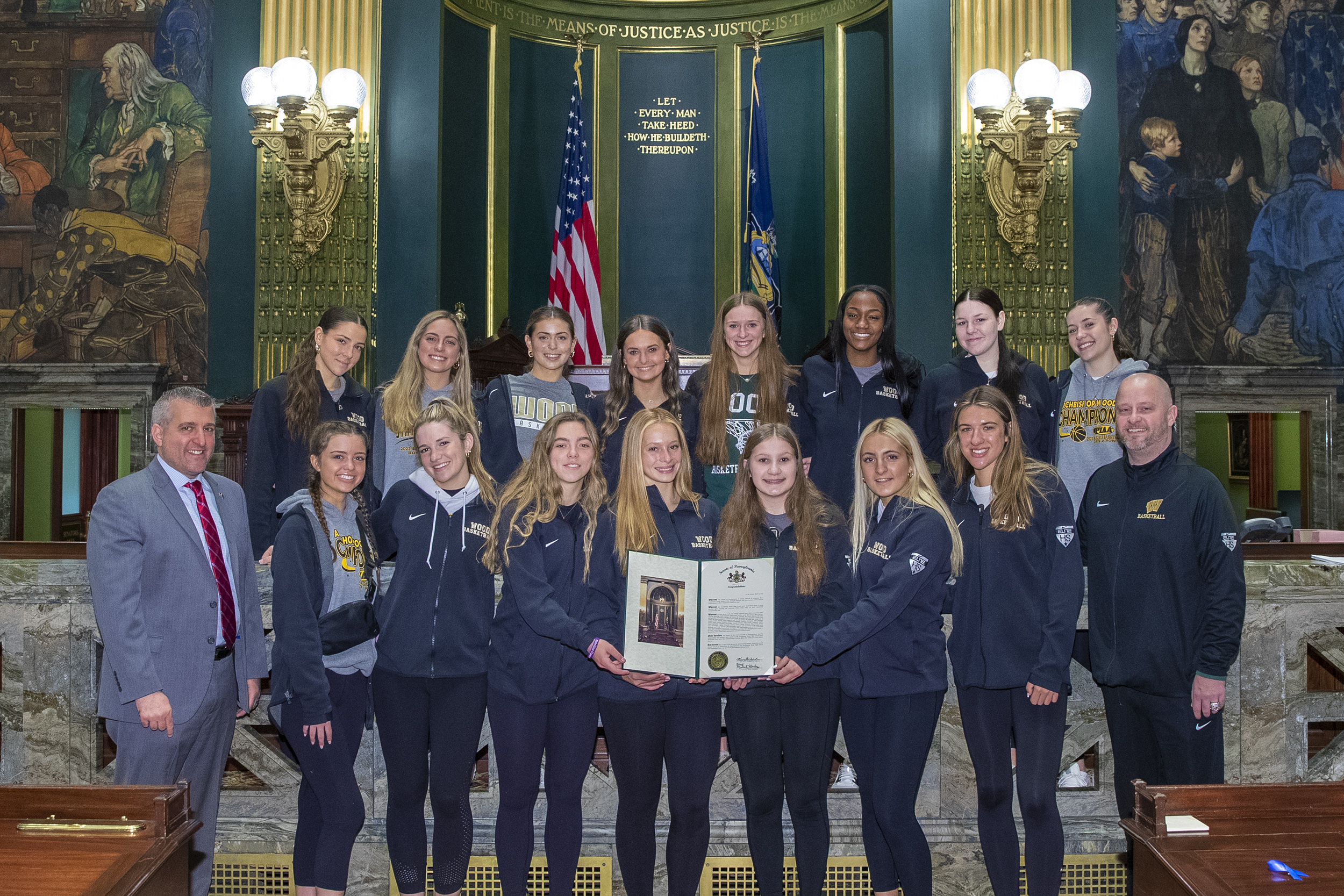 I was proud to welcome the Archbishop Wood High School Girls Basketball Team to the Capitol earlier this week to celebrate their state championship. This is the team's third consecutive state championship win. It was great to announce Coach Mike McDonald and his team on the Senate floor and present them with a citation from the Senate for their tremendous accomplishment.
Congratulations to the team; Emma Yogis, Sophia Topakas, Makenna Campbell, Delaney Finnegan, Allie Fleming, Kara Meredith, Campbell McCloskey, Lauren Tretter, Deja Evans, Makayla Duffy, Ava Renninger, Alexa Windish, Lauren Greer, Emily Knouse, Mia Casey, Keira Brennan, Paige Barats.
Guest Chaplain at the Capitol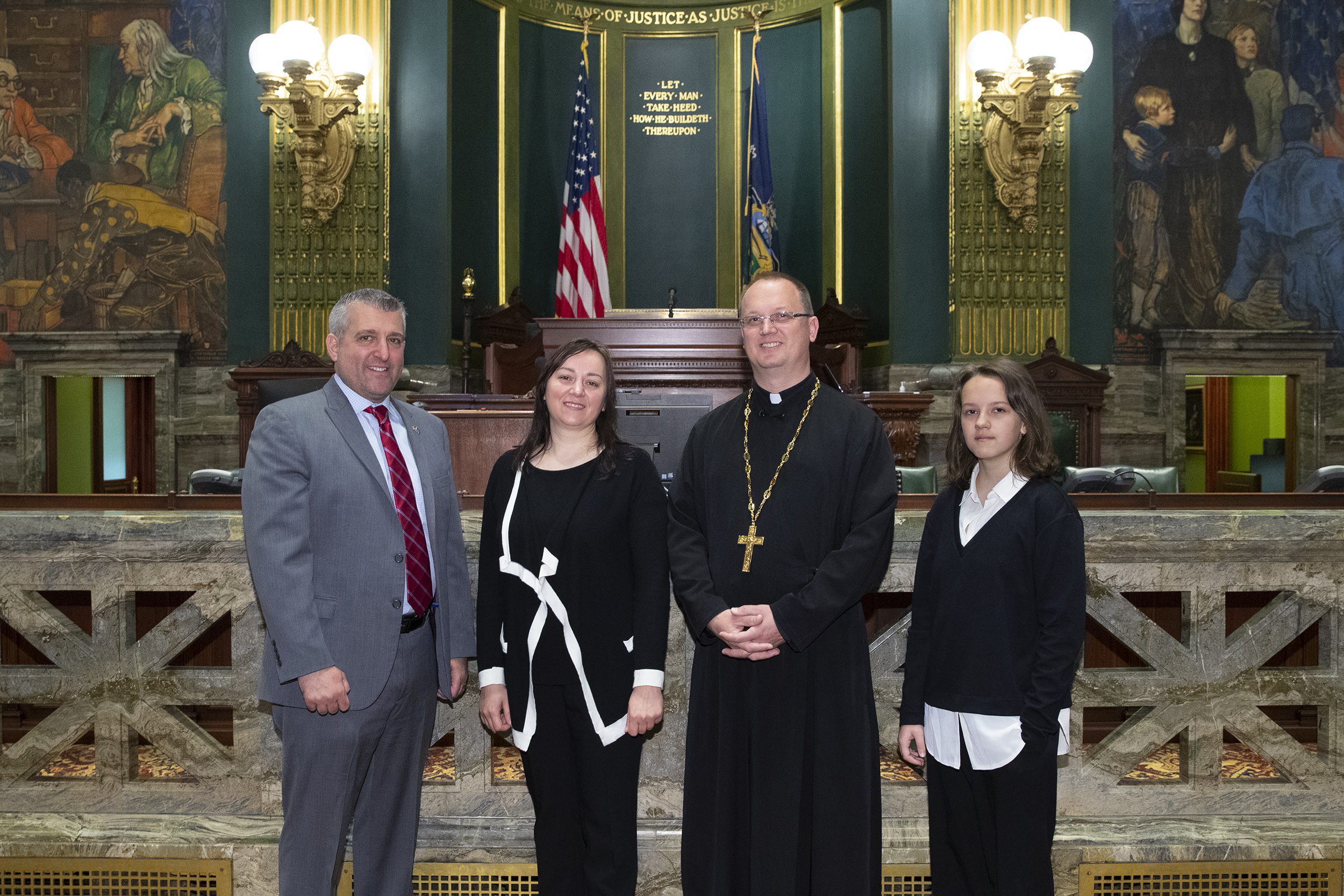 At the Capitol on Wednesday, we had the honor of having Father Mykola Ivanov, pastor of St. Anne's Ukrainian Catholic Church in Warrington as a guest chaplain. He led session with prayer and was joined by his wife Anna and daughter Christina. St. Ann's Ukrainian Catholic Church has many historic ties to Bucks County and today has 170 families as parishioners. This year they started to teach Ukrainian adults and children English as a second language. They have also rallied to help Ukrainian orphan children and are working to help the struggles of their founding country during the war.
Fighting Crime to Ensure Safe Communities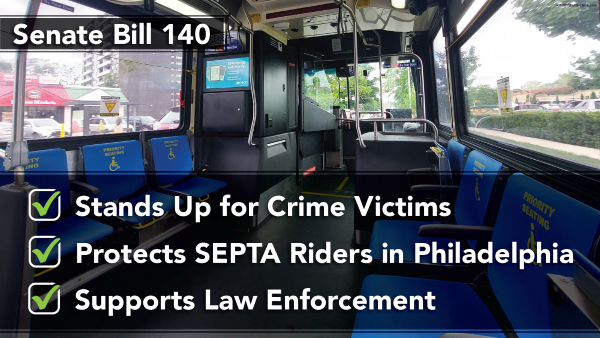 To fight crime that threatens safe communities, the Senate approved legislation to crack down on the unchecked crime crisis plaguing Philadelphia's mass transit system.
The Southeastern Pennsylvania Transportation Authority (SEPTA) is the sixth largest mass transit agency in the United States and provides essential transit services for one-third of Pennsylvania's population. Riders and SEPTA employees have raised alarms on the rising number of people addicted to drugs, experiencing homelessness and suffering from serious mental illness.
Senate Bill 140 would require the Pennsylvania Attorney General to appoint a special prosecutor from a county of the first class to re-institute prosecutorial jurisdiction when heinous crimes occur on SEPTA's property. These crimes include shootings, sexual assault and robberies of SEPTA riders. This prosecutor will address the sweeping inaction of the current Philadelphia District Attorney and ensure scofflaws will answer for their crimes since the current DA has a systemic record of failing to prosecute assaults on victims.
Recognizing National Mental Health Awareness Month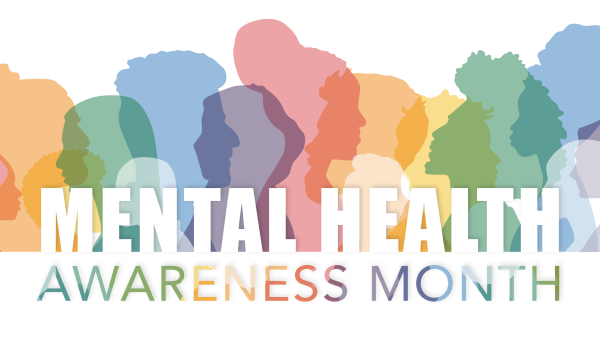 Mental Health Awareness Month has been observed in the United States since 1949 to fight stigma, provide support, educate the public and advocate for policies that support millions of Americans impacted by mental health challenges.
As the former chairman of the House Human Services committee, I have joined Senate Republicans have pushed for investments in mental health, and that push continued last year as we fought for mental health financial support to schools, funding for more support staff in nursing facilities and workforce recruitment and retention payments for frontline workers. We also worked to pass important legislation last session to allow for greater access to drug and alcohol programs.
My colleagues and I will continue to make mental health funding a priority this legislative session.
If you or someone you know is struggling with mental health challenges, find resources here.

If you are not already subscribed to this newsletter please sign up here.