In this Update:
State Grant Deadline is May 1 for PA College Students
How to Apply for a Veterans ID Card
Check Out a State Park Near You
Earth Day at Core Creek Park
Save the Date – My Shredding Event
---
State Grant Deadline is May 1 for PA College Students
The deadline for students and families to submit their applications for the 2023-24 Pennsylvania State Grant program is May 1. This deadline applies to all renewal applicants and first-time applicants who plan to enroll in a degree program or other college or university (excluding community colleges).
To apply for a Pennsylvania State Grant, applicants must first complete the 2023-24 Free Application for Federal Student Aid (FAFSA). Applicants can access the FAFSA online at www.PHEAA.org/FAFSA or www.fafsa.gov. Completing the FAFSA online saves time and reduces application and processing errors.
Students and families with questions about the FAFSA or the State Grant Program can call 800-692-7392 for personal assistance.
How to Apply for a Veterans ID Card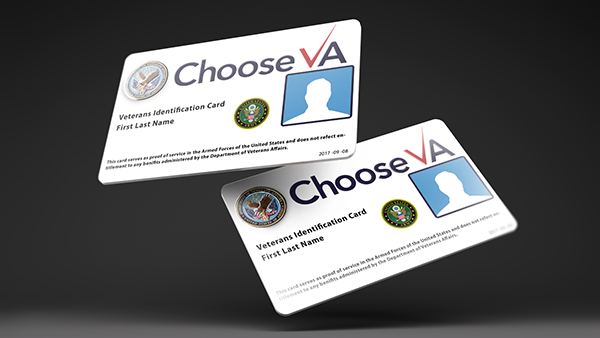 Many former service members are unsure how to prove they are a veteran to take advantage of discounts offered by businesses. These include restaurants, hotels, stores, recreational activities, home improvement and more.
The easiest way is to apply for the U.S. Department of Veterans Affairs' Veterans ID Card (VIC), which is a digital photo ID you can use to get those discounts. Since September 2022, all new Veterans ID cards have been digital. A veteran with a physical ID card can continue using it to get discounts. The VIC is separate from the VA health care ID, which a veteran receives when enrolling in VA health care.
Find out how to apply for a card here. If you have any questions or need help, email VA's VIC program at vetidcard@va.gov.
Check Out a State Park Near You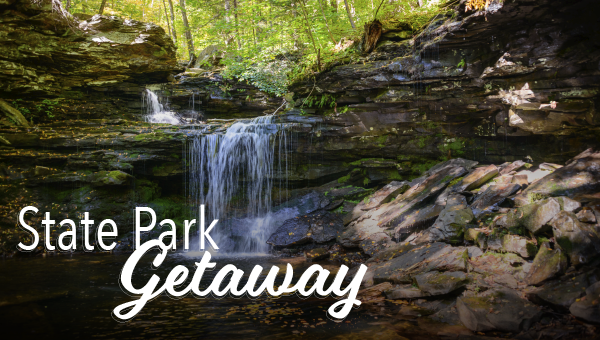 Now that spring has arrived, the nicer weather will allow Pennsylvanians more opportunities to explore our state's 124 beautiful state parks, operated by the Department of Conservation and Natural Resources. Pennsylvania's state parks system manages more than 300,000 acres for popular recreation activities, such as hiking, picnicking, camping, fishing, hunting and boating.
Pennsylvania state parks do not charge an entrance fee; however, fees do apply for some activities.
If you like to enjoy the outdoors with your dog, 56 of our state parks offer dog-friendly campgrounds. Learn more or find a park nearby here. Make reservations online here to secure campsites, cabins, picnic pavilions, whitewater boating launch time permits and more.
Earth Day at Core Creek Park
Join Middletown Township, Falls Township, Newtown Township, Northampton Township, Hulmeville Borough and Bucks County Parks & Recreation to celebrate Earth Day on Staurday April 29 at Core Creek Park in Langhorne from 11am-2pm.
There will be live entertainment, free giveaways, free tree sapling giveaways, local vendors and Pita Chip will be on site serving food. Make sure to stop by my legislative table while you're there!
Save The Date – My Shredding Event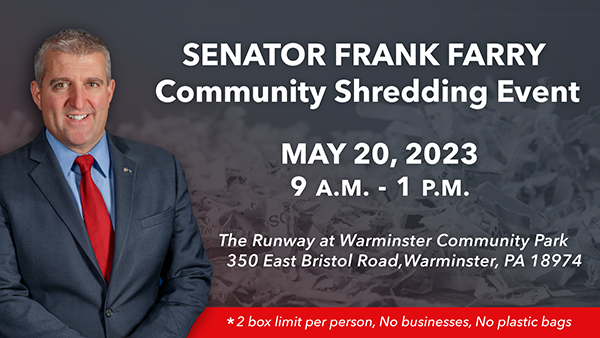 To help residents guard themselves against identity theft, I will be hosting a free community paper shredding event Saturday, May 20 from 9 am-1 pm at The Runway at Warminster Community Park, located at 350 East Bristol Road in Warminster.
Residents of the 6th Senate District are encouraged to bring documents that contain sensitive information to be thoroughly shredded.
Due to high demand, individuals are limited to two file boxes of papers; No plastic bags, please.
This event is for residents only; no businesses.
My staff will be on hand to address any state-related issues/questions. Free information on state programs and services will also be available.

If you are not already subscribed to this newsletter please sign up here.